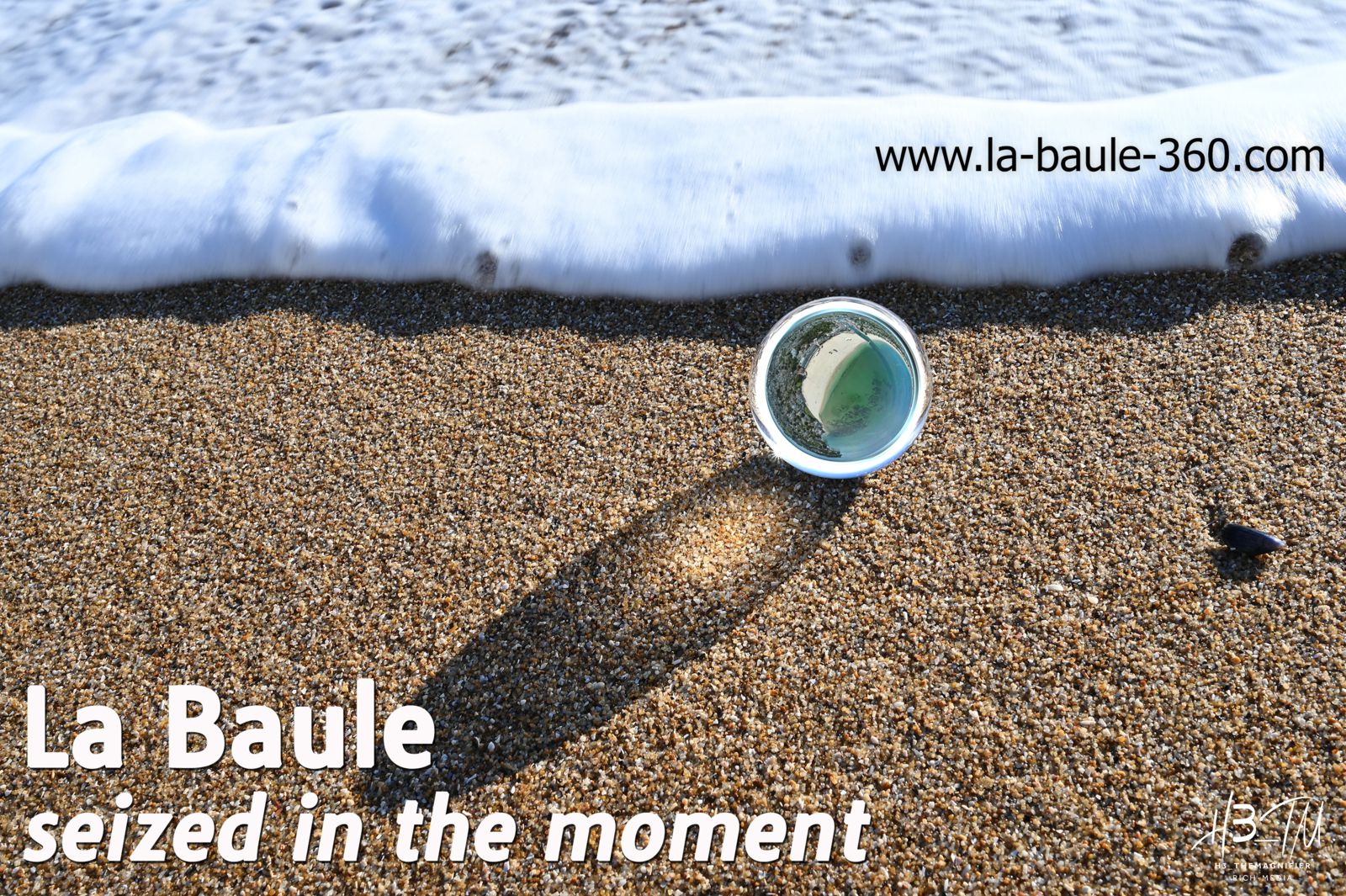 La Baule 360 at sea, on the beach, on the seafront - Housing / Real Estate with Sea View - Snapshots in the moment
It is a certainty, the seaside resort of La Baule-Escoublac likes to be Leader.
The very popular seaside resort of La Baule-Escoublac in France, bordering the South Atlantic Ocean Brittany has recently been enriched with a phenomenal fully immersive virtual tour tool whose ambition of what we can appreciate for the moment - if not know more, but we are investigating - is to have it included in the Guinness Book list soon.
Judge for yourself: La Baule is above all the largest beach in Europe, with a length from one end to the other of the bay of 9 km. Endless sand. An astonishing natural form of crescent facing south, completely devoid of rocks.
La Baule has also been a member of the very exclusive Club of the Most Beautiful Bays in the World for a decade.
La Baule, on these now fundamentals, has decided to challenge other tourist sites around the world, by undertaking a fabulous virtual visit based on circular photographs, also called panoramic, all linked to each other, in such a way as to allow the user to go wherever he wants in the order he wants. And when he wants. This page, taken at random, seems to show us that the site is scalable.
Several thousand free navigation combinations
Its designer? The New3S company, already known for its strong accents of pioneer in the "real virtual visit" or "3V valued virtual tour" with its interactive 3D living rooms inaugurated in 2009, and more than ten international Awards, undertook to make a software solution generation, therefore at the cutting edge of technology, relying for this on the natural geomorphology of the seaside resort of Loire-Atlantique (44) and the French cadastre: the entire resort of La Baule-Escoublac is leaning to the North on the town of Le Pouliguen and to the south on that of Pornichet.
An incredible almost endless virtual tour
This is what it seems to be the case as the device is vast. It already covers more than 50 km².
For example, on this same web page, we can observe a landscape according to the four cardinal corners: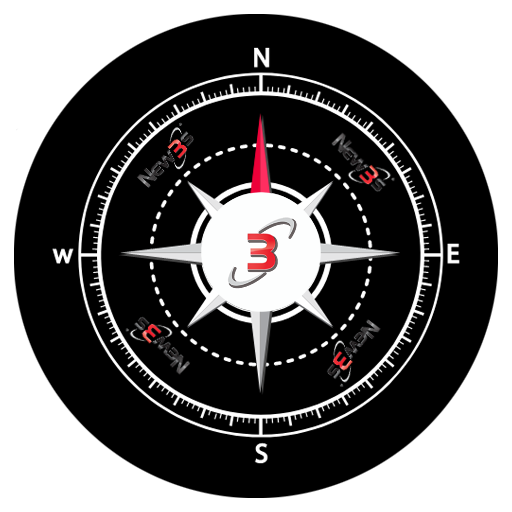 On this other webpage, you can experience the same beach location from another vantage point and at a different time of day. Valuable information for pre-visits and scouting.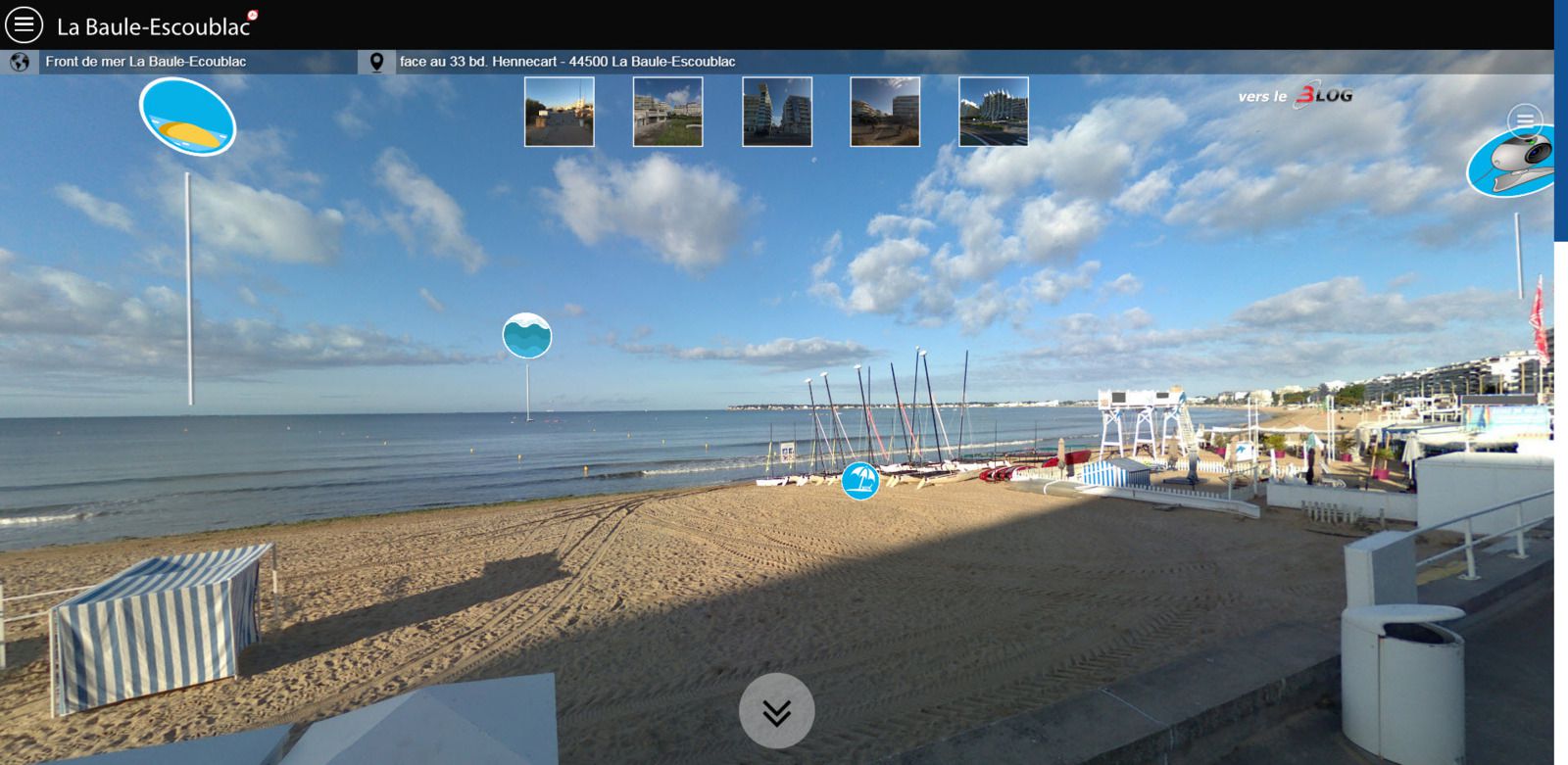 From now on, you can freely visit all of La Baule using this process...
... (at sea, on the 5.4 kms of beach, on the 5.4 kms of seafront / La Baule embankment) from all hardware platforms equipped with the highest resolution screens to the most common (la-baule- 360 is 100% compatible with state-of-the-art video projectors and computers, and of course tablets or even smartphones. Thus, by its design designed for the greatest possible number of professionals (each page turns on itself slowly indefinitely ), www.la-baule-360.com is able to turn tirelessly in offices and halls and windows on the specific virtual location pampered by the professional.This technicality, is on the way - according to the publisher - to become a reference that will make date and novelty.
Very high resolution: at a time when 4K has become a fairly familiar format and when 8K TVs will soon be banned from sale in Europe because they consume too much energy, it is true that offering via the web channel, panoramic images in 16K, undoubtedly provides a certain head start and anticipation.
A very high resolution meaning: an image in very high definition, therefore with unparalleled sharpness, as well as the ability to zoom without degrading and to contemplate anywhere in the image, since the images are taken in 2 times 360deg x 360deg. They are taken in a full sphere format.
When novelty rhymes with rarity
No need to look elsewhere, what we see now on www.la-baule-360.com does not exist anywhere else.
Already on and for La Baule itself. There are indeed online virtual tours that can easily be found by searching with search engines (la baule 360, la baule virtual tour, ...), but none of the spherical photographs on the Web appear resembling neither closely nor remotely what La Baule 360 ​​seems to want to restore: the unimaginable.
By extending the research to what is done elsewhere, after long research, it would seem that its designer and director - the New3S company - is right: there is nothing approaching La-Baule-360, even from afar. At best we find Dubai 360. Certainly a magnificent and extraordinary virtual visit originally created for the fabulous DUBAI 2021 universal exhibition, but ... which seems ... fixed compared to La Baule in 360 degrees. Fixed by an immutable design for quarters. Fixed by its static side of virtual visit, proposed alone, without accompaniment or new ergonomics. Fixed by its Business Model, which until now seems undetectable in the eyes of observers like us.
Virtual Tour with Added Value = 3V 360 by New3S
The originality and above all the power of this La-Baule-360 platform come unambiguously from the choice in favor of this unique software architecture designed by its publisher New3S. An article published on the Linkedin account of New3S reveals a little more about this matter
Judge for yourself!
Each page of the www.la-baule-360.com site is built according to a multi-layered architecture, like a mille-feuille, where intuitive links allow you to go from the top of each web page to its own bottom, and from the bottom to the top, and therefore to go down the page and go up just as easily.
That said, how original is it?

Thus, it is just as easy to:
To switch from Fly mode or 360-degree navigation mode offered by the virtual tour at the top of each Web page, to Multimedia Playback mode, than to return to it:
The navigation and observation / information gathering / education - Pedagogy modes are confined to the same 360 deg spherical space under the same URL. And the place is 100% geolocated with great precision.
Thus the Internet user can easily click where he wants in the same window (and URL), and activate videos, new web pages, images, sounds, administrative documents contextually attached, ... that we will find a everywhere in all the pages of the site, placed in the right places in this 360deg zone.
Than to navigate within the same web page, but in the vertical direction this time by passing at will from the immersive zone (at the top), to the narrative zone (below) where again there are everywhere Rich-Media. Indeed, they are so numerous and so varied that it appears that the publisher New3S seems to have focused on the image
It is true that the image redefines the digital verb.
Also, the image changes the point of view and the point of view changes the image.
This performance alone, already technical, is added to the no less other advantages of this La Baule portal imagined as an almost infinite Virtual Tour by New3S. Among them, we count a multitude of Forums
Individual Forums on each portal page.
We have thus tried to count the pages currently visible on the site www.la-baule-360.com.

Impossible to say with certainty their number. But it seems certain that this website has no less than 200 individual ones. As a result, there are over 200 individual Forums connected to this single platform. And a General Forum for the entire municipality of La Baule-Escoublac. However, as we have recently seen, this platform is constantly growing. Our article completed, it would be quite possible that the number of pages, and even more, of links, still increased.
Since there are more than 200 web pages already built at the moment in mid-November 2022, our deduction inevitably goes to a new question: How do you find www.la-baule-360.com?
It is true that so far, there is no trace in any press media whatsoever, of this original achievement inaugurated in the summer of 2022.
We can thus speak of discretion as the event has not (yet) been relayed in the press. Neither national press nor international press for that matter. However, as we pointed out earlier in this article, if we take a good look at what is being done elsewhere both in France and abroad, both in terms of tourism promotion and the creation of municipal visibility or enhancement in the commune, there is no trace of a promotional building of such originality or effectiveness.
Asked for this question, the President of New3S Hervé HEULLY, answered us.
The Business Model of the La-Baule-360 portal is based on the passage of various stages that we must first cross successfully:

First of all, identify useful content for everyone.
It will be necessary that at one time or another, everyone can have a reflex: that of wanting to click on the page(s) placed in favorite(s) from www.la-baule-360.com to reach the desired information. An info, which usually is always scattered and whose address we never know how to find...

La-Baule-360 must benefit from a top natural referencing, which means that all the expressions and keywords searched for the station are referenced as best as possible in Google. We must ensure that the content published by La-Baule-360 stands out in number as soon as the pole position
Next ? We asked the President of New3S.
Next ?
We don't design things too sequentially. We are more adept at overlapping in time and as much as possible of tasks carried out in parallel.

Then ... as soon as we can see that we have actually crossed a threshold of visibility, as we conceive it according to the PVP process for Presence - Visibility - Positioning, we can offer professionals to come and settle on the portal in order to benefit full of the notoriety of La-Baule-360. One step among many others. According to the progress of www.la-baule-360.com and the differences between concept and reality.
It is indeed already envisaged that certain stages overlap as there is sometimes a difference between theoretical planning and practice!
We can already observe that a good number of pages of the www.la-baule-360.com system are already referenced by natural referencing.
The New3S company thus already published on Twitter a few weeks ago: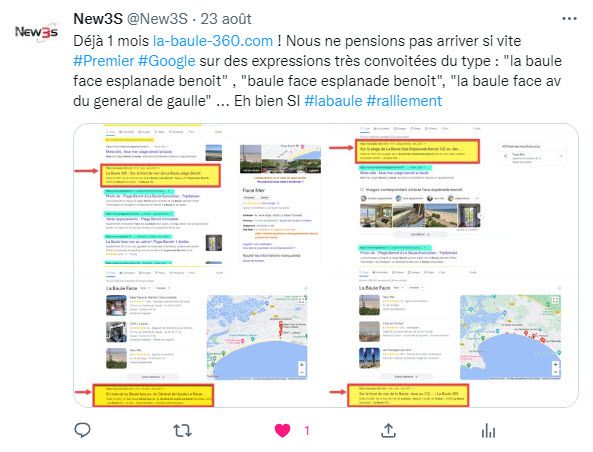 Tweet of August 23, 2022 made by New3S about the results obtained in terms of natural referencing for www.la-baule-360.com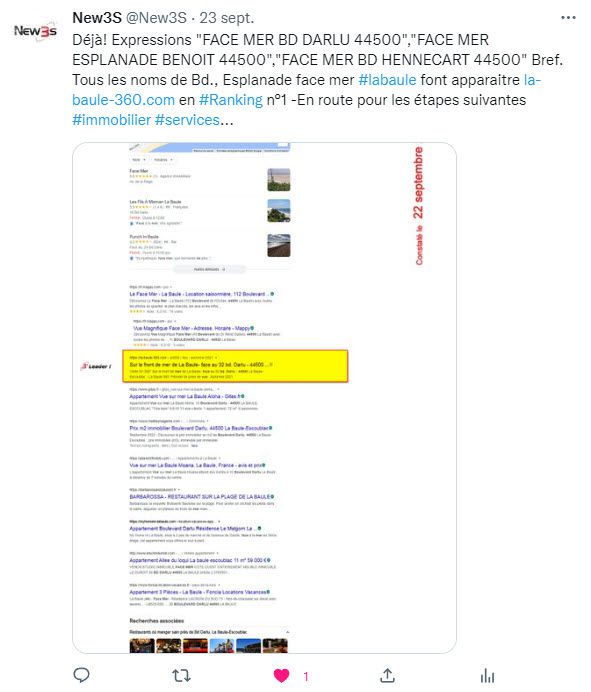 Tweet of September 23, 2022 made by New3S about the results obtained in terms of natural referencing for www.la-baule-360.com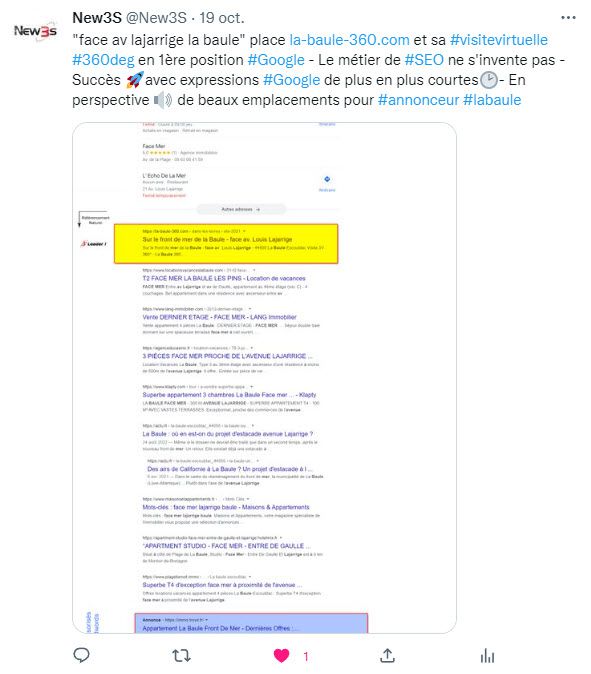 Result in Google of the expression often searched by Internet users: face av lajarrige la baule" / Tweet of October 19, 2022 made by New3S about the results obtained in terms of natural referencing for www.la-baule-360.com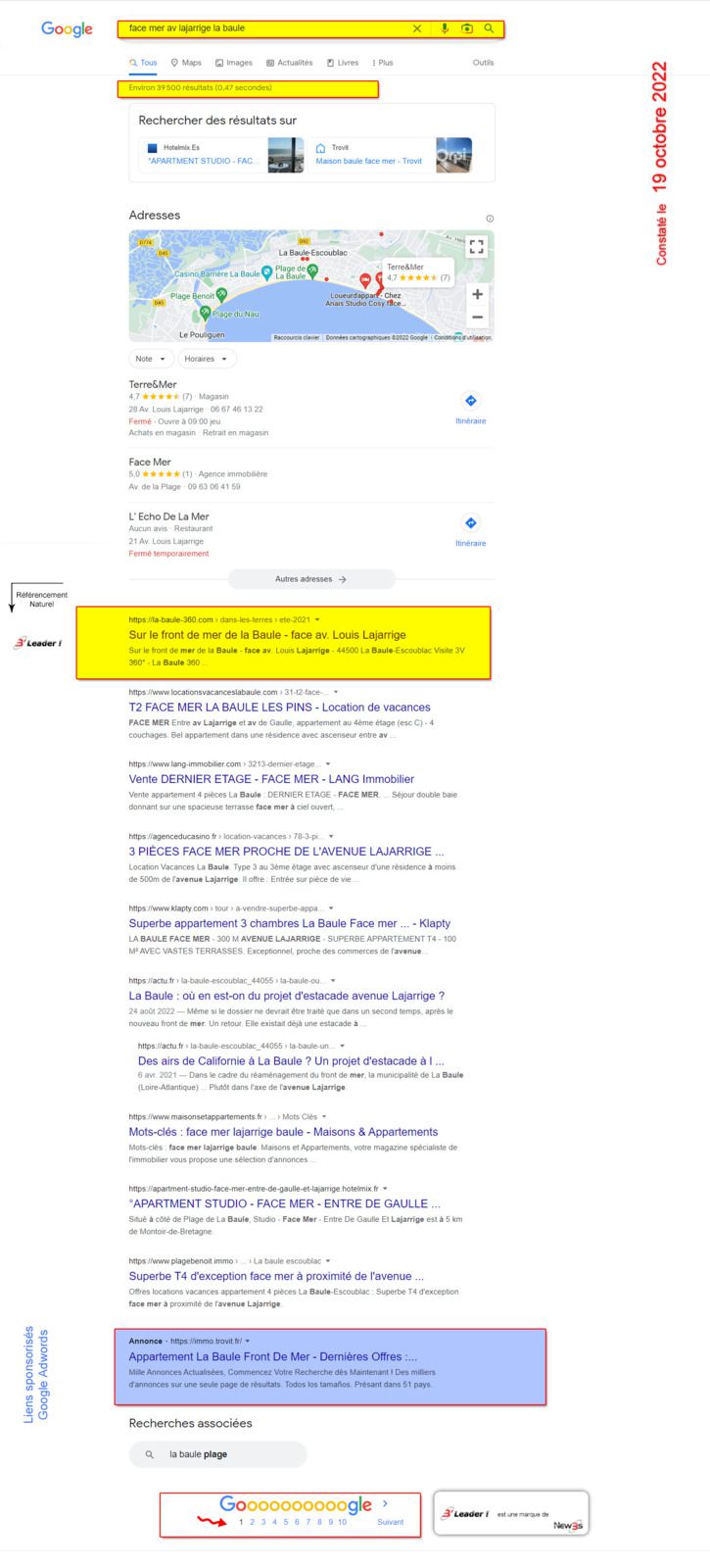 Pole position on 39,500 results found by the Google search engine. La-Baule-360 in pole position on desktop and smartphone and tablet all OS combined. Pole position in front of 6 real estate agencies, as well as the Actu site in La Baule. Pole position in front of a sponsored ad displayed at the very bottom of the page.
Concept of Economic Development and National International Tourism of a territory: La Baule
La Baule beach: from 1 to 112 bd. de l'Océan 44500 Baule-Escoublac - Virtual Tour 3V 360deg
La Baule seaside resort largest beach in Europe voted among the most beautiful bays in the world #1
Water sports in La Baule - Largest beach in Europe seaside resort on the Atlantic coast #2
Discovering the unknown with Professor Moncef Guenounou: from the simulation of the H5N1 virus to patent filing
Reception at the Town Hall of Saint-Mandé (94160) France, in the inner suburbs of the city of Paris - presentation of the New3S 3D virtual fairs in front of the Mayor of Saint-Mandé and Deputy in the person of Mr. Patrick Beaudoin as well as a large public and the Embassies of the United States and Canada
1st world exhibition of tourism by virtual and 3D on the Web
Entrepreneur's journey - Entrepreneurial spirit - From school benches to B'Leader by Hervé HEULLY New3S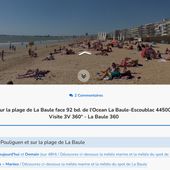 La Baule en 360 degrés (360deg - 360°) : Une visite virtuelle jamais vue de toute l'Histoire de la station balnéaire La Baule-Escoublac, déja sacrée plus grande plage d'Europe et une des plus belles baies au monde - B'Leader - La Communauté des Web Leaders
La Baule 360 en mer, sur la plage, sur le front de mer - Logement / Immobilier avec Vue sur mer - Prises de vues dans l'instant C'est une certitude, la station balnéaire de La Baule-Escoublac aime à
http://be-leader.over-blog.com/2022/11/la-baule-360-degres-360deg-visite-virtuelle-du-jamais-vu-de-toute-l-histoire-de-la-station-balneaire-la-baule-escoublac-plus-grande-plage-d-europe-plus-belle-baie-monde.html
La Baule in 360 degrees (360deg - 360°): A virtual visit never before seen in the entire history of the seaside resort La Baule-Escoublac, already crowned the largest beach in Europe and one of the most beautiful bays in the world - B' Leader - The Community of Web Leaders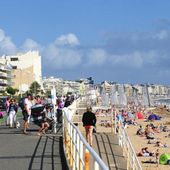 La Baule est la station balnéaire la plus chic de la façade atlantique : Reputation -3D - La-Baule-360
La folie acheteuse des derniers mois semble s'être calmée... Mais les biens étant rares dans cette station balnéaire animée toute l'année, ils restent très chers ! La Baule est la station ba...
https://la-baule-360.reputation-3d.com/2022/02/la-baule-est-la-station-balneaire-la-plus-chic-de-la-facade-atlantique-reputation-3d.html
La Baule is the most chic seaside resort on the Atlantic coast: Reputation -3D - La-Baule-360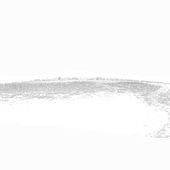 Le Blog de La-Baule-360 ouvre ses portes : voici les 3d-reputation et e-reputation en immobilier, immeubles, syndics et villas - La-Baule-360
Le Blog de La-Baule-360 ouvre ses portes : Pour commencer. Pourquoi donc cette ressemblance avec une sorte de formule (La baule 360 . reputation 3D), en guise d'intitulé ou même de nom pour ce ...
https://la-baule-360.reputation-3d.com/2021/08/le-blog-de-la-baule360-ouvre-ses-portes-3d-reputation-et-reputation-3d-ou-encore-e-reputation.html
The La-Baule-360 Blog opens its doors: here are the 3d-reputation and e-reputation in real estate, buildings, trustees and villas - La-Baule-360